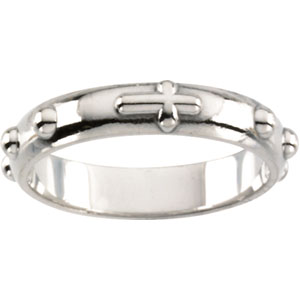 Silver Rosary Ring 4.0 mm wide
Silver Rosary Ring 4.0 mm wide
10
Average rating:

Read all reviews
$

45.89
Reg. Price $53.99
You Save $8.10
in stock
US Dime = 17.80 mm
US Penny = 19.00 mm
US Nickle = 21.20 mm
ER16644SS
Sterling silver Rosary Ring. 4.0 mm wide. Available in whole finger sizes from 4-12. Personalize your rosary ring with inside ring engraving.
---
Silver Rosary Ring 4.0 mm wide
10
Average rating:

|
Read all reviews
Featured positive reviews:
Silver Rosary Ring 4.0 mm wide

Silver Rosary Ring
01/18/2010
The ring is beautiful. It is a way for me to both remind myself of my real goal in life (heaven) and to evangelize when people ask me about the ring. I wear it on my thumb as a "slave ring" to remind myself why I live and who I serve. When I am stressed or uncertain of what my course of action should be the ring is a great tool to refocus my thoughts in the right direction.