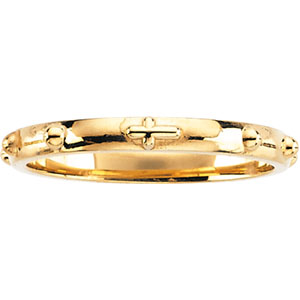 14K Gold Rosary Ring 2.5 mm wide
14K Gold Rosary Ring 2.5 mm wide
4
Average rating:

Read all reviews
$

356.99
Reg. Price $419.99
You Save $63.00
in stock
US Dime = 17.80 mm
US Penny = 19.00 mm
US Nickle = 21.20 mm
ER16603
14K Gold Rosary Ring. 2.5 mm wide. Available in yellow gold and white gold in whole finger sizes 4-12. Personalize your rosary ring with inside ring engraving. FREE ENGRAVING for a limited time. Made to order.
---
14K Gold Rosary Ring 2.5 mm wide
4
Average rating:

|
Read all reviews
Featured positive reviews:
14K Gold Rosary Ring 2.5 mm wide

Gold Rosary Ring
12/19/2010
I just wanted to write to say how thrilled I was with the quality of this beautiful ring! It fit my daughter's ring finger perfectly and she was delighted at opening it. Thank you for engraving it and shipping it so quickly. I have already been recommending your sight to others for their jewelry needs. In an age where customer satisfaction seems to have been shelved or at least lowered in priority, it is nice to know that there are still business professionals willing to go the extra mile to ensure complete satisfaction is achieved. Thank you again!