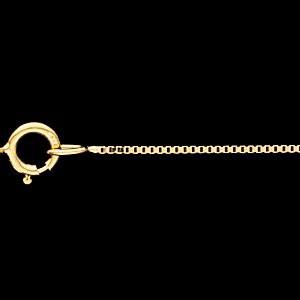 Gold Box Chain
Gold Box Chain
4
Average rating:

Read all reviews
$

137.82
Reg. Price $162.14
You Save $24.32
in stock
US Dime = 17.80 mm
US Penny = 19.00 mm
US Nickle = 21.20 mm
ECH1096
14K Gold Solid Box Chain 0.55 mm wide
---
Gold Box Chain
4
Average rating:

|
Read all reviews
Featured positive reviews:
Gold Box Chain

gold chain
10/24/2011
The chain was lovely but a little too short - I should have measured more carefully before ordering. It was too tight for the recipient to wear comfortably. This isn't the fault of the product, but a word to the wise to make sure to check how long a chain you need.