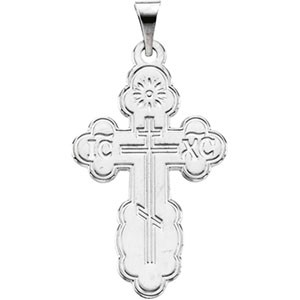 Sterling silver St Olga cross pendant. A sterling silver curb chain is included with this Saint Olga cross and the back of the cross is inscribed with Protect and Save in Russian. The two smaller sizes include an 18 chain and the 2 larger sizes include a 24 inch chain.
Precious Metal Abbreviations
14KY = Yellow Gold
14KW = White Gold
SS = Sterling Silver
Millimeter Size Comparisons
US Dime = 17.80 mm
US Penny = 19.00 mm
US Nickle = 21.20 mm
This product plus $26.63 more will qualifiy you for free shipping within the USA.