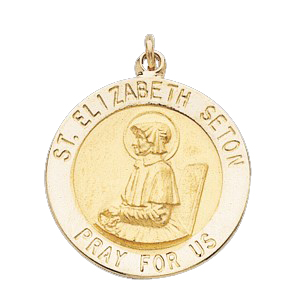 14K Yellow Gold Saint Elizabeth Ann Seton Medal. Patron Saint of Death of Children, In-law Problems, Loss of Parents and Widows.
Precious Metal Abbreviations
14KY = Yellow Gold
14KW = White Gold
SS = Sterling Silver
Millimeter Size Comparisons
US Dime = 17.80 mm
US Penny = 19.00 mm
US Nickle = 21.20 mm
Adding this item to your cart qualifies your order for free shipping within the USA!