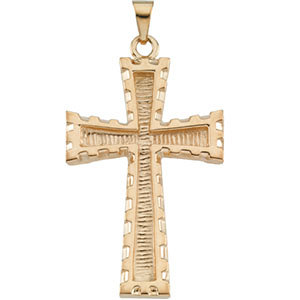 14K Gold Cross pendant with bark finish 34x23 mm. This cross is available in either 14K yellow or white gold.
Precious Metal Abbreviations
14KY = Yellow Gold
14KW = White Gold
SS = Sterling Silver
Millimeter Size Comparisons
US Dime = 17.80 mm
US Penny = 19.00 mm
US Nickle = 21.20 mm
Adding this item to your cart qualifies your order for free shipping within the USA!